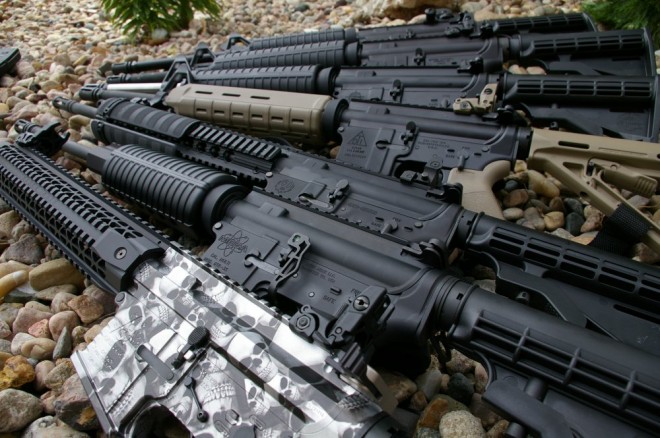 When it comes to purchasing an assault rifle the AR-15 is one of the most highly regarded and well-known rifles in the gun industry. If you have been looking for your first high impact rifle whether it be for hunting or general recreation, the AR-15 is a knockout deal that will connect you closer to the sport then ever before with impressive recoil and the ability to shoot even the furthest target with amazing accuracy. There are a few things that you'll want to look for in an AR-15 when it comes to buying one, from the style of the barrel to the quality control that goes into each weapon.

Most manufacturers are now selling AR-15 rifles as "Mil-Spec", but many of these rifles are a far cry from being military spec. Although most rifles are suitable for the occasional trip to the range, only a true mil-spec rifle will be able to handle heavy abuse and perform like a champ. You'll notice that many cheaper grade rifles will tend to jam and lock upon you, and the inferior quality will come out in the long run. The AR-15 of today is a lot more advanced than the models that were available decades ago, but there are still plenty of inferior models being sold on the market.

Another thing that you'll want to look for in a new AR-15 is the chrome-lined barrel, although the gun maker might state that the barrel is chrome lined you won't know until you take the time to delve into it. You'll also want to go for a rifle that comes from a reputable manufacturer who offers a warranty plan because of nothing worse than spending a good deal of money on a rifle only to have something wrong and be stuck with it.

Buying any ar-15 rifles online doesn't have to be a stress-inducing experience, and for the most part, you can come across a good deal. If you are still unfamiliar with purchasing a firearm from a sporting goods retailer online, take the time to research the company and make sure that you are dealing with a reputable business. You'll also want to take the time to check the user ratings as well, and see how the company interacts with their customers.

Most gun stores will not offer a warranty on your purchase, as this is usually offered by the manufacturer. Nevertheless, take the time to examine what the warranty has to offer and what type of benefits you'll get with it because a good warranty will make up for any issues that might happen with the rifle. You'll want to make sure that your gun is covered in case anything should go wrong with it, after all, you are going to spend a good amount of money on it. The AR-15 is perhaps one of the most iconic guns around, with a stellar recoil and the ability to be modified with ease the gun is the perfect combination of stealth and surprise.